"Peter & Albert, Sept. 14" reads the marquee at the Raven Theater. And while the names are familiar, their conjunction is not. Dig a little deeper and it begins to make sense. That's Peter Asher of Peter and Gordon. Although Albert Lee only rarely gets top billing, his role as a guitar gunslinger with Emmylou Harris, Joe Cocker and the Eric Clapton Band gives him serious cred.
The two are touring together with a low-key performance that emphasizes the Art of the Duo, two singers telling their song stories through harmony. It's a time-honored tradition; in fact, Asher (who should know) thinks it's one of the foundations of the rock song. And it all orbits around Don and Phil, the Everly Brothers.
"As a duo, there is nowhere else to look," said Asher by phone from Nashville. "If you talk to any duo—Simon & Garfunkel, Lennon-McCartney, Chad & Jeremy, whatever—we all undoubtedly share the fact that the Everly are the role model. I know Paul Simon feels that way, and I know Paul and John did when it came to singing as a duo."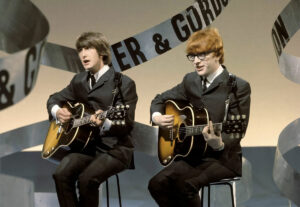 The easy familiarity with which Asher cites these artists is fully warranted. After all, Peter & Gordon were part of the so-called British Invasion of the 1960s, and scored their share of hits between 1964's "World Without Love" and 1967's "Lady Godiva." Many of them were written by the Lennon-McCartney duo, though they were primarily Paul McCartney songs, including one of their biggest singles, "Woman" (1966). McCartney published it under the pseudonym Bernard Webb to see if it would still be a hit. It was.
The inside track Peter & Gordon enjoyed to these songs was understandable, given that the "cute Beatle" was spending a lot of time in the intellectual, artistic ferment of the Asher home with 18-year-old, ginger-maned Jane. An actress, she had moved on from TV roles (including in The Adventures of Robin Hood, where her older brother, Peter, also got screen time) to movies, with 1966's hit, Alfie, with Michael Caine in the wings.
Folkie Roots
Peter Asher had connected with Gordon Waller as a folk duo even before the Beatles hit it big—there was a lively music scene in England that the Fab Four released. "We played the folky coffee bars, sitting on a couple of stools without even necessarily a PA, and just sang folk songs and Everly Brothers songs and took requests and whatever we could do," remembered Asher.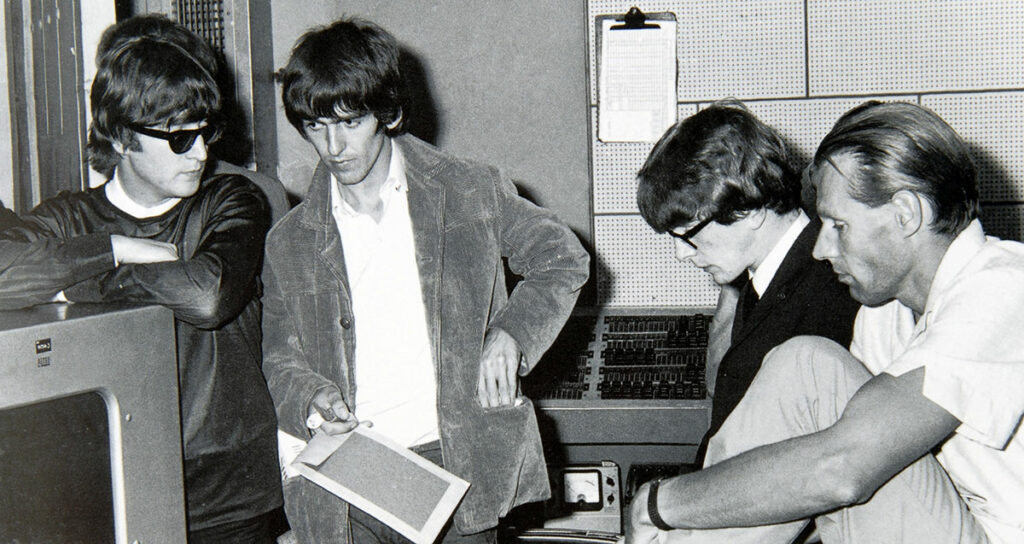 The folk duo Peter & Gordon became a natural spill-over act for McCartney's prodigious songwriting energies. But eventually with their performing career at an end-point ("It felt like it was getting a bit repetitive, and we hadn't had a hit for a bit"), Asher made a big jump: He became the A&R (Artists and Repertoire) man for Apple Records.
That's enough experience and proximity to greatness for any one career. Yet Peter Asher was just getting started. In 1986, he signed a young American singer-songwriter, and produced what would become Apple's only non-Beatles album, the eponymous James Taylor.
But even after Apple collapsed, Asher produced eight more James Taylor records into the 1990s, proving Asher as prolific a producer as McCartney was a songwriter. Then he branched out. Asher's 10 albums with Linda Ronstadt define not only her career but a country-rock genre that remains strong today: Don't Cry Now, Heart Like a Wheel, Prisoner in Disguise on to Livin' in the USA.
"I thought we were making pop records, but with Linda, we were making country records. One year, I won some award as Country Producer of the Year. I just didn't feel justified. You know, I've never worn a pair of boots or a hat in my life," said the 5′ 6″ bespectacled redhead. "But I was delighted and honored; country music has some of the best singing and best playing."
Behind the Album Cover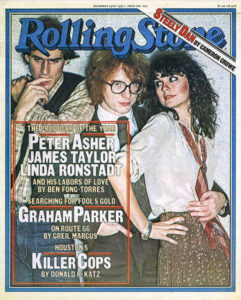 Asher has produced many other records, for artists from Cher to Ringo Starr to Neil Diamond, but he's reluctant to speak about what a producer's role is. "It varies from one producer to another. We don't know much about what each other do because we never see each other. Working with two record producers in the studio at the same time is a rare phenomenon," he noted.
Still, he does acknowledge it can involve who the engineer is, what studio is used, who the musicians are and what songs are recorded. "The producer is a collaborator helping the artist make the best record he or she can make," he summarized.
He also pioneered the practice of listing the names of studio musicians who played on albums, which helped elevate formerly faceless backup players to near-legendary status: James Burton, Leland Sklar, Russ Kunkel and Albert Lee, among others.
"We can't remember exactly when we first met, but it was a long time ago," said Asher of his friendship with Lee. "And then we ended up doing a couple of shows together, kind of by accident… And we enjoyed singing together and playing together. He's a terrific, underrated singer because his main reputation is as a genius guitar player."
As Asher said, Lee is more recognized for his guitar work than singing, one of a small handful of musicians sometimes called Mr. Telecaster. He has played on many studio sessions (including for Asher), toured with rock stars and guided the reunion of The Everly Brothers, the inspiration for so many duos.
Don and Phil Everly started singing together in the late 1940s, but broke up in 1973. It would be 10 years before they would perform together again, and Lee became a mediator and tour producer.
Peter Asher knows a thing or two about band break-ups. "There's something wonderful that happens when (singers) are relations. But also when they're relations, they seem to have a bigger breakup … I mean, if you look at the Kinks or if you look at Oasis or you look at the Everlys, when they do decide to break up, it's vicious."
Perhaps thankfully, Asher and Lee are not related, and neither one of them appears driven to stardom. They do it for the music.
"Someone suggested we should try to put a tour together of singing and storytelling with just the two of us. And it's fun," said Asher. "Of course, I get to play rhythm guitar and listen to Albert Lee play lead—it doesn't get much better than that."
Peter Asher & Albert Lee perform at the Raven Performing Arts Theater, 115 North St., on Thursday, Sept. 14, at 8pm. General Admission: $50; VIP including meet & greet: $140/$150. Tickets at raventheater.org.