The Healdsburg High School varsity football team is ready to turn the page.
The team, which hasn't won a league game since 2017, is preparing for the 2023 season with dogged determination under new head coach Randy Parmeter. Long associated with the program at El Molino High, which is now absorbed into the West County school known as Analy, Parmeter has also coached at Cardinal Newman and Windsor, among other area schools.
Parmeter arrived to take over a program at Healdsburg that he characterized as "decimated" in recent years, when it went 0-11 in its 2022 season. "They just have not had the input to provide the type of output that you would like to see," he said carefully.
He said taking over at Healdsburg "was really just trying to give these kids an opportunity to have some success, to learn the game and to try to build the program back to something that was functioning."
Part of the problem Parmeter saw at Healdsburg was the lack of a junior varsity (JV) team in recent years, which reduced the number of players with on-field experience to serve as potential source of talent for a varsity team. This year, 19 kids have shown up for JV, and coach Steve Rea will be curating new players for future varsity teams.
But there's more than just raw numbers that factor into the Healdsburg team's poor showing in recent years, said Parmeter. He blames the internet. "You need kids interested," he said flatly. "If you look back, way back in time, you had nothing else to do, right? I mean, come fall, you're playing soccer or you're playing football or maybe running cross country. There was nothing else going on in that day and age.
"Now you've got all these year round sports," he continued. "A lot of times, kids kind of pick a path, and they go down that path and that's what they do. Whether it be, 'I'm a basketball guy, so I'm doing it all year round,' or, 'I'm a soccer guy, so I'm doing club all year round.'
"So you're competing with these all year round sports, and football's not an all year round sport. So it lags in competing in the off season just because everybody else is doing all these other things," said the coach.
Multi-Sport Athletes
The other downside of young athletes focusing on one sport all year round is that it hinders their overall athletic ability. Said Parmeter, "The problem is, they think if I do, you know, baseball all year round, it's gonna make me, you know, this amazing baseball player, or if I do soccer all year round. And that's not the case."
He pointed out that Tom Brady was a star high school player in basketball and baseball as well as football. "If you really break it down, when you're a multi-sport athlete, you face adversity in a different manner in those various sports, which builds to your mental character, and that's what you need," Parmeter continued.
Regardless, the coach is cautiously optimistic that this year, he's got a team he can work with. "There's a group of young kids that are pretty motivated," he said. "So they're gonna be a good foundation for helping get the program back on track. There's not enough of them, but there is a good group of them."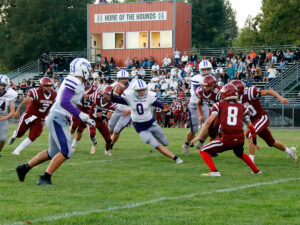 Among them is Kevin Herrera, a junior who will be starting quarterback as the season opens. Parmeter's own son, James, also a junior, will play at wide receiver. Multisport athlete Wyatt Dugan returns at running back as will 2022's top tackler Nathaniel Rowland at defensive end. A healthy percentage of this year's roster is returning to the game, and the coach hopes their experience puts Healdsburg in the winning column this year.
But as any coach will say, it's not all about winning. "What I've instilled in my kids over the years is, you need to support your community. It's not about you. The problem with this day and age is that 'It's all about me. I don't wanna play football. I don't wanna play basketball. I don't wanna do baseball,' he observed.
"In my opinion, you should support your community. You may not be the best baseball player or basketball player or football player in that season, but you should go and support your teams by contributing," added the coach.
The Healdsburg Hounds will again play in the North Bay Redwood League. The team drew a bye last week, while other area schools began their fall season, and will play their first two games on the road—this Friday at St. Helena, and the following week at Sonoma Valley.
Their first home game will be Friday, Sept. 15, against Kennedy (Richmond). Varsity kick-off is 7pm, JV at 4:30pm. Home games are played at the Recreation Park field at University near Giorgi Park.