A robust four days of special wine tastings and pairing seminars, bespoke lunches and dinners, cooking demonstrations, cocktail parties and a live outdoor concert at Rodney Strong Vineyards shines a glamorous light on Healdsburg this weekend, the second year of the Healdsburg Food & Wine Experience.
From a barbecue and vineyard tour on Friday (in Graton, be it noted) to a celebration of zinfandel on Sunday (at the more appropriate Villa Chanticleer), this is not a weekend wine tasting party, but a series of lavish immersions (some might say indulgences) celebrating Healdsburg as the center of a culinary carnival, with celebrity bartenders, celebrity winemakers, celebrity mixologists and of course, celebrity chefs.
The list of chefs alone is a roster of kitchen legends, many of them local: Doug Keane (Cyrus in Geyserville), Casey Thompson (Folktable in Sonoma), Ari Weisswasser (Glen Ellen Star) and Leah Scurto (Pizzaleah), with Crista Luedtke, Domenica Catelli, Duskie Estes and Tracey Shepos all at one event—to list just a few.
"Our goal has always been to highlight the vibrant culinary diversity, amazing wines and sustainable farming practices of Sonoma County as it relates to the rest of the world," said Steve Dveris, founder and CEO of the festival, who brings it back after its inaugural iteration a year ago.
Dveris knows the territory. He was West Coast director of New York Magazine from 1989-2006, during which span he also founded the eponymous SD Media to develop events in "the Luxury Lifestyle, Food, Wine and Travel Space," as his LinkedIn profile describes his beat. And in that space, Healdsburg is ground zero—in Northern California, at any rate.
He said the idea for the Sonoma-centric event came from Karissa Kruse, president of Sonoma County Winegrowers, a marketing and educational organization with some 1,800 wine grower members. As such, it is focused both on business and brand development, protecting the interests of the wine producing families and farms, but also extolling the value and virtues of Sonoma County wines.
Both Kruse and Dveris share an enthusiasm for Sonoma County that places it above its more well-known neighbor, Napa County. "I always felt that Sonoma deserved to be on par with Napa in terms of recognition," said Dveris, and as leader of the powerful Sonoma County Winegrowers group, Kruse has no reason to disagree.
What to expect
All in all, there are two VIP levels of passes (both sold out) and nine a la carte events, for most of which tickets are available at around $100. Some of these have multiple options, such as four Wine and Spirts Seminars on Saturday and four separate Celebrity Chef Culinary Demonstrations at the Matheson, also on Saturday.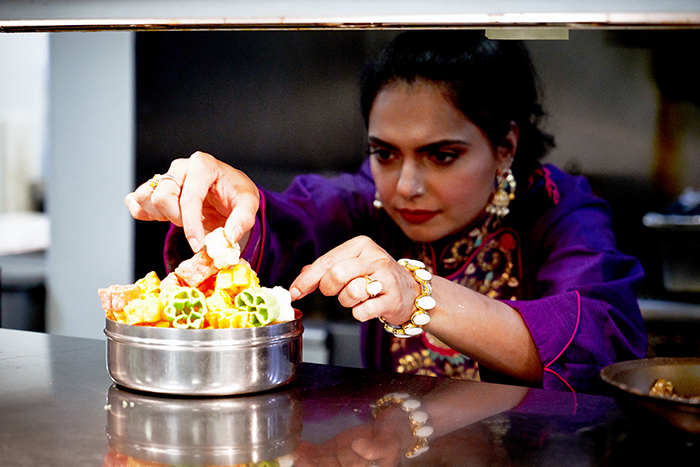 VIP Ticket holders can not only claim access to the individual events but partake in exclusive events, such as the Thursday night VIP Welcome Celebration at Montage Healdsburg featuring local chefs, a multi-course dinner at Cyrus, as well as several other dining opportunities through the weekend.
The main event promises to be the Saturday Grand Tasting, which will take place not on the Plaza but under a tent in the West Plaza parking lot, the same location used by the Healdsburg Farmers' Markets on Saturdays. The Grand Tasting begins at 12:30pm, so the market will move to the Healdsburg Plaza for May 20 only to allow the event time to set up their pavilion.
Over 100 wineries from around the world will be represented, with Sonoma and Napa as the focus. A slew of Sonoma County chefs (Ari Weisswasser, Leah Scurto and Casey Thompson among them) and many others featured elsewhere in the Healdsburg Experience will be on hand to offer bites and tastes. The event runs from 12:30 to 4:30pm, with live music and increasingly animated conversation. There's a discount for Healdsburg residents, only $190.
Sunday's major event, the Zinfandel Live Wine Experience, has special appeal for locals insofar as its focus is zinfandel. Few places in the world produce better zins than the Healdsburg area, and it's appropriate that the noon to 3pm happening takes place at the historic Villa Chanticleer at the top of Powell Avenue.
The experience will also offer wine pairs from Dallas chef Kent Rathbun and Leah Scurto of Pizzaleah, and "an immersive musical experience" with multi-faceted guitarist Asher Belsky, guided by Leslie Sbrocco, the outgoing TV host of Check Please!
Giving back
Sonoma County Winegrowers takes pride in its charitable contributions, and several events benefit a local charity or the Winegrowers' own Sonoma County Grape Growers Foundation.
Farm to Pantry, founded by Duskie Estes to bring fresh farm produce directly to families in need, is a key beneficiary of the HWFE weekend—and she dons her toque (Zazu) at the VIP Welcome Celebration at Montage Healdsburg on Thursday night.
On Saturday morning, a Community Brunch at Chalkboard sponsored by Foley Family Charitable Foundation will send a significant donation towards a Future Farmers of America Scholarship for local students interested in an agricultural career. (Coincidentally, Healdsburg's FFA fair is the following weekend, May 25-27.)
A percentage of ticket sales for several events goes to the Grape Growers Foundation's Leadership Academy for vineyard workers, including Saturday night's sunset concert with country duo Maddy & Tae at Rodney Strong Vineyards. Later on Saturday night, a Magnum Party at Bacchus Landing promises to pull the cork on some memorable wines, from 8 to 11:45pm.
The contributions are consequential. In 2022, the first year of the HWFE, the Healdsburg FFA received $30,000 in donations. The foundation was said to have received $90,000. Farm to Pantry is expected to glean $10,000.
Yet some complain that very little of the donations come to the Healdsburg farmworker (although Healdsburg hospitality workers are surely rewarded).
Saturday afternoon at 2pm, the Santa Rosa advocacy organization North Bay Jobs with Justice is holding a "March for Relief" for farmworkers, from Giorgi Park to the Healdsburg Plaza a mile away, while the Grand Tasting is underway nearby.
Said Davida Sotelo Escobedo of the organizers, "Workers don't want charity; workers want these standards guaranteed in their contracts." They said current issues include a living wage, "hazard pay" to mitigate the impacts of climate change and compensation for wages lost during recent emergency conditions.
They said the march was not about the HWFE itself, but addressed to the individual wineries and grape growers who set the wages and make the contracts with the workers.
Kruse, who doubles as executive director of the Sonoma County Grape Growers Foundation, said, "As co-founders and partners in this event, we believe in the dual mission to showcase Sonoma County wine, ag and sustainability on this global stage while raising funds to elevate and celebrate the local vineyard workforce. The mission is exemplified in the events and messaging throughout the entire weekend."
All festival events are 21 and older. No children, infants or pets are allowed to attend any festival event for the safety of all parties. Additional information at healdsburgwineandfood.com.