The Healdsburg High School athletics program is midway through its first normal autumn in several years. A total of 149 students are participating in the season's sports, from a football team of 43 to a girls' golf squad of five to a cheer team of 18. Among the season's stories are several sports that don't make headlines, but are well worth the attention.
Football: The momentum the Greyhounds had after their close 22-20 loss to Kennedy was a bit deflated by the Sept. 23 game against Terra Linda in San Rafael. Although the Hounds had possession of the ball for much of the game, running off 64 plays against only 26 for Terra Linda, the result showed that the Trojans made their possessions add up to a 49-19 final score.
Once again junior Nova Perrill II led the team offensively, making all three touchdowns on the ground—including an exciting 21-yard run in the first quarter. He gained 157 yards on 31 carries, and threw for another 25 yards on five completions.
Freshman Dillon Jocius continued to deliver from the backfield with 28 dogged yards on 12 carries, plus making five of six kick-off returns.
But two turnovers, including an intercepted pass and a fumble, helped Terra Linda take control of the game in the third quarter, racking up three touchdowns and another in the fourth while holding the Greyhounds to a single TD in the second half. Penalties also cost Healdsburg, called six times against zero for the Trojans.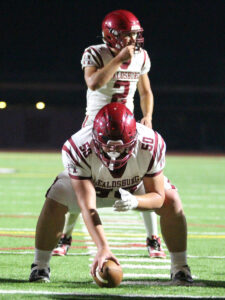 This Friday night, the 0-4 Healdsburg Greyhounds return to Rec Park looking for their first win of the season. Their opponents are the 1-4 Eagles of Berean Christian (Walnut Creek), who got their first win last weekend against Hercules.
JV game is 4:30pm and varsity kickoff is 7pm, at Rec Park on University Avenue.
Tennis: The girls' tennis team is a strong and competitive one this year. Led by singles players Isabel Smith, Meher Dhiman, Amelia Wickersham and Claire Berry, and an equally talented doubles squad, the Greyhound girls have come out ahead in some tough matches and lost others, but they always compete.
Doubles teams are Ruby Leffew / Isabel Lickey, Cecilia Hallinan Becker / Margaret Kosta and Sana Katsuki / Kathleen Arriaga.
On Tuesday afternoon, Sept. 26, Healdsburg took a 7-0 sweep over Santa Rosa and are pumped for the rest of the season. A match last week had to be rescheduled due to poor air quality, which means they'll have three matches in a row next week against Analy (Oct. 3), Cardinal Newman (Oct. 4) and Ukiah (Oct. 5), all at Healdsburg High.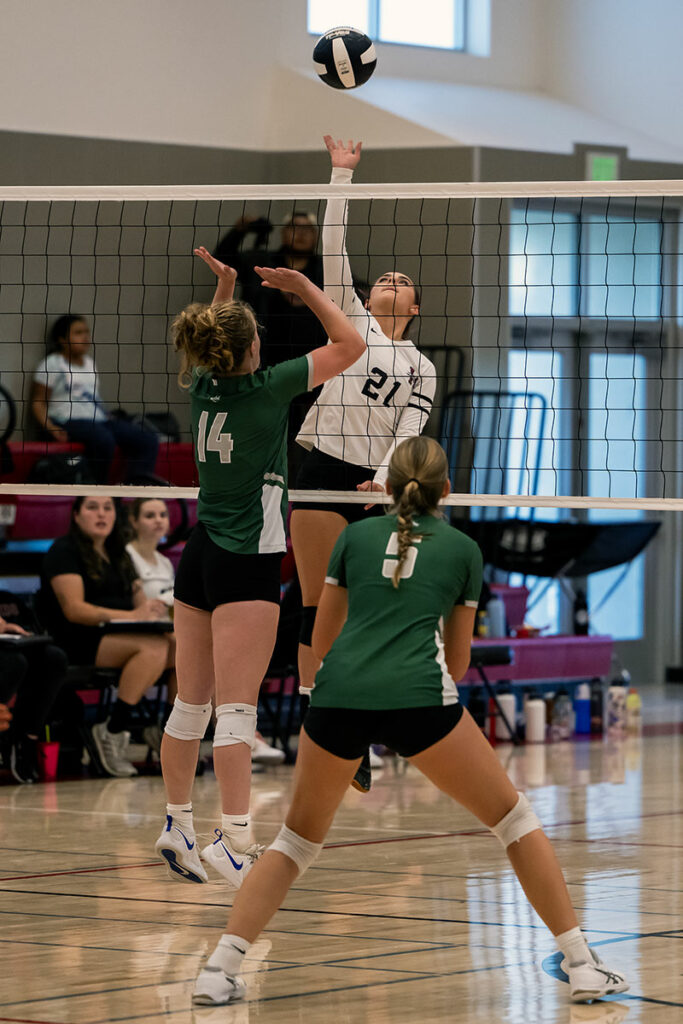 Volleyball: Often an exciting indoor sport, with the crowd's loud encouragement in the small East Gym, the varsity volleyball season has been slow to take off. Their record is currently a disappointing 3-14, and they are 0-2 in the North Bay Redwood League.
Their most recent match, on Tuesday, Sept. 26, ended in a much-needed 3-2 win over St. Vincent de Paul. Prior to that, they had lost eight in a row, several of them hard-found five-set matches, falling only in the tie-breaker against Piner, San Rafael and Sonoma Academy. Seven league matches await, twice weekly until Oct. 19.
Cross Country: The sport gains momentum as the season rolls on and cross country runners test their speed. Each meet may have a different three-mile course, plus or minus, leading to a wide variety of times depending on the course.
Following last week's Viking Open at Spring Lake (see Healdsburg Tribune, Sept. 21), a midweek meeting with St. Vincent and Elsie Allen at Petaluma's Shollenberger Park is unreported at press time.
Starting next Wednesday, Oct. 4, the Racing Greyhounds compete on their home course in Alexander Valley in a series of one-on-one meets: Cardinal Newman on Oct. 4, on Oct. 11 against Rancho Cotate and Oct. 18 against Ukiah.
Also coming up, the regional Artichoke Invitational in Half Moon Bay on Oct. 7, often a memorable meet for the participants.
Golf: Girls' golf got underway locally with two 9-hole home matches at Tayman Park. On Sept. 12, Healdsburg's Tehya Mitchell sank a birdie on the first hole and ended up with the day's best score, shooting a 39 on the par-35 course.
Other Healdsburg golfers and their scores included Milly Olch (57), Zella Santana (65), Siena Yeilding (53) and Lola Hagen (63).
But Analy's total of 261 came in ahead of Healdsburg's 277 among their top five players for the win.
Matches with Maria Carrillo, Ukiah and Analy followed, but a Thursday, Sept. 28, tournament hosted by HHS at Tayman Park should bring many area duffers to town, 3pm at Tayman Park.