When a stress-relieving vacation is called for, but going away is out of the question, the serene solution is a daycation escape to the Bliss Organic Day Spa, a tranquil haven tucked away in an expansive second-floor space in downtown Sebastopol.
After spending the day steaming and soaking in their traditional bathhouse, relaxing on the gemstone infrared mat, experiencing an ultra-comfortable massage with a skilled bodyworker and glowing after a gentle, hands-on, organic aromatherapy facial, all stress will melt away. And at Bliss Organic Day Spa, one can rest comfortably, knowing that the products used are ethical and organic, and that the staff is fairly employed.
"My staff is the real magic of the spa," says spa-owner Melena Moore. "I'm always inspired by the talented practitioners and support staff I have the honor of working with."
Moore is committed to creating an inclusive environment for all at Bliss—especially the LGBTQ+ community. Estheticians are professional, kind and create a sense of comfort and safety that allows for full relaxation.
"It's a true day spa feel; you come in, and it's soothing and the energy is really good," says Marissa Terry, an esthetician at Bliss. "We all care for each other here."
Indeed, clients and employees alike are blissed out at Bliss. "Creating ethical employment in my beloved hometown of Sebastopol is my life's purpose," Moore says. "I always wanted to open an affirming work environment to let my strengths shine, where equity really matters—so I built a place where all are welcome to work and receive services."
The facial estheticians use a variety of techniques expertly, including gua sha; facial, neck, arm and shoulder massage; and an abundance of organic and ethical products from the organic skin-care line Éminence. Éminence is also a certified B-corp, ensuring high standards environmentally and socially.
Practitioners at Bliss take their time and apply serums, masks, scrubs and mists until one can't help but emerge from the steam looking radiant and younger. Facials last anywhere from a quick Refresh 30-minute facial to 60 or 90 minutes of literal bliss.
"If you're stressed out, it can come through in your skin," Terry says. "We target based on skin concerns. I make it a whole mind-body experience."
An upcoming luxury service that will begin in October at Bliss is the Hydrafacial. "The Hydrafacial gently but thoroughly refreshes and revives all skin types," Moore says. "It will complement our organic facials, providing intense moisture and nourishment to the skin."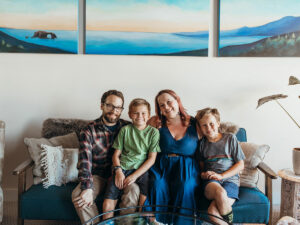 Bliss also offers a variety of must-try massage styles, including signature Swedish, relaxing, deep tissue and warm stone. The massage tables are custom-adjusted to create maximum comfort for the client.
"It's a nice combination between our clients and our coworkers being special," says Xander Rivas, a resident massage therapist. "Everyone here is really gifted."
Annie Carouba originally founded Bliss Organic Day Spa in 2012. In 2017 she sold it to Moore, who formerly worked at Osmosis Spa in Freestone before joining Bliss as marketing director and general manager.
The spa thrived under Moore's care, and in 2020 the former Dhyana Center bathhouse—located next door—was added to the spa's offerings. One of the only traditional bathhouses in Sonoma County, Dhyana's cozy feel has been preserved, including the wood architecture, soaking tubs, copper cold-water plunge and saunas.
"The bathhouse came to me from DeAnna Batdorff, founder of the Dhyana Center, when she decided to close her brick-and-mortar operation during the pandemic," Moore says. "I consider both of these women, who supported me in owning Bliss Organic Day Spa and the bathhouse, friends and mentors."
Bliss Organic also partners with Soft Medicine Sanctuary, a café and yoga studio located in the same building. Clients can partake in combined monthly memberships for the bathhouse and yoga classes, creating a sustainable opportunity for blissing out on a regular basis.