Saxophone sounds filled the spacious twin Quonset hut space at 222 Healdsburg Ave. last weekend, while an audience of just under 100 listened to the jazz music from cloth-draped café tables decorated with lowlights and small bowls of chocolates, perhaps sipping a local varietal from Grapeseed Winery.
This is how we do it in Healdsburg.
Bobby Watson Quartet played for two nights for audiences in the Paul Mahder Gallery, leading bassist Essiet Essiet, pianist Edward Simon and drummer Akira Tana in the soaring set. It technically marked the end of the first year of performances at The 222—a non-profit entertainment venue housed within the for-profit gallery business that Paul Mahder has run since 2014.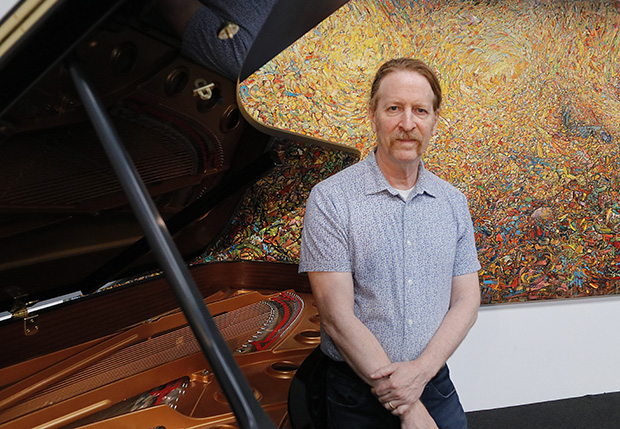 In some way it also marked the launch of the first complete season of programming at The 222, complete with a full-color 40-page program describing the wide variety of arts events coming to town in the next nine months, from August through May, 2023. Not just jazz—a staple in Healdsburg since Jessica Felix started the Healdsburg Jazz Festival in 1998—but choral performances, literary readings, string quartets and other classical ensembles, to say nothing of obscure yet significant movies all to be brought to the stage.
The stage itself makes a statement: Behind it is a huge, dramatic, densely decorated canvas called The Greatest Days of The World, by Nikolai Atanassov, one of about 45 artists represented at Paul Mahder Gallery—sculptors, metalworkers, even a couple bone assemblages. Clearly this space is about more than music, and even more than art—it's about performance.
"I think we have a lot of venues in Sonoma County for an audience to sit and be the recipient of someone's brilliance, but we rarely have the opportunity to engage," said writer and poet Laurie Glover, who will curate three literary events in the coming months. "With the small venue that The 222 offers, it's really perfect."
For instance, Glover looks forward to Kim Stanley Robinson's reading on Feb. 11. Even though Robinson is best known as a science fiction writer, "his whole way of being is formed around him being a backpacker in the Sierra," said Glover. He will read from his memoir, The High Sierra, which he calls a love story, though Glover recognized that there will be people in the audience who will want to talk with him about his newest novel, The Ministry for the Future.
As well as booking poet Nate Klug (Jan. 28, 2023) and Julia Levine (March 4), Glover also worked with classical music programmer Gary McLaughlin on one of his events, bringing poet Ellen Bass and Ukrainian-born pianist Inna Faliks to the stage together on March 31, one of several hybrid performances that blend spoken word with music, or live music to accompany silent movies.
"That's another way we take advantage of the conversational aspect, having two artists at the same time from different areas," said Glover.
McLaughlin, who is one of only two of the programmers who lives in Healdsburg (the other being Felix, as well as Mahder himself), has already produced several classical performances at The 222, but as the musician and retired conductor said, "It's been my personal mission not try to find musicians who haven't played in the area."
Among them will be the cello-piano duo of Thomas Mesa and Ilya Yakushev (Sept. 23), the Viano String Quartet from Los Angeles (Nov. 11), and celebrated Russian performer Alexander Malofeev (March 12, 2023), winner of the esteemed International Tchaikovsky Competition for Young Musicians in 2014.
"Healdsburg's such a wonderful town," said McLaughlin. "Now we've got The 222—with more artistic activity than ever before."
The high quality of musicians lining up to come to Healdsburg is due in part to the magnificent piano on The 222 stage: a shiny black nine-foot concert grand, "one of five best pianos in the Bay Area," said Mahder. The instrument is a Yamaha Disklavier DCFX, with digital output and recording, as well as superior acoustic qualities.
"It's the one that's fully handmade, it's their best," said Mahder. (The piano was a donation from a backer; the top-of-the-line model has no price given on the Yamaha website, though lesser models sell for over $100,000.)
Of course jazz artists enjoy a great piano as well, and among Felix's programs is a return of Marc Cary to Healdsburg, always a popular solo artist (Dec. 17), vocalist Mary Stallings with pianist David Udolf (March 25, 2023), and the season's finale, saxophone legend Charles Lloyd and pianist Gerald Clayton (May 27; Clayton appears solo on Sept. 10, 2022), who have been performing together off and on since 2013.
There will be performers who don't need that piano, however, like the Oakland Interface Gospel Choir (Nov. 5), and Sacred & Profane, a chamber chorus (Dec. 11), both uplifting concerts programmed by Sanford Dole.
And Eleanor Nichols, the long-standing director of SSU's Sonoma Film Institute, will provide the rare experience of viewing several film classics, screened on the first Thursdays, October through March. While most may not be widely known, they are no less important for that.
For instance, Honeydripper, a 2007 John Sayles movie capturing the era when the blues became rock-and-roll (Oct. 6); The Shop Around the Corner, the 1940 rom-com with James Stewart and Margaret Sullivan that's the inspiration for 1998's You've Got Mail (shows Dec. 1), and a rare screening of A Matter of Life and Death, also known as Stairway to Heaven, a surreal film from Michael Powell and Emeric Pressburger about the hallucination of life and death.
"Healdsburg has needed an arts venue like this—it's the right size, it's intimate and it's an interesting environment," said Mahder. "For me personally, it's not so much about the big names, it's more about building community," he continued. "Just as the art (of the gallery) is an opportunity for people to come to see the work of others from around the world, it's the same with performing arts; it builds community though cultural events, it's what makes for a healthy community."