With only a little over a week left in the 2022 California Collegiate League (CCL) baseball season, the Healdsburg Prune Packers are poised to repeat their 2021 state championship—if they can survive the playoff rounds, set to begin in just over a week.
Last weekend they were back in town, delighting hometown fans with three straight wins against North CCL rivals, including a 15-0 shellacking of the West Coast Kings on July 22. That was followed by a 7-2 win over the Sonoma Stompers the next day and a tighter 8-7 victory over the Walnut Creek Crawdads on July 24.
That one went 10 innings, as the Packers scraped together two runs in the top of the tenth and the Crawdads could only come up with a single run to fall short.
Over the course of the season, it has become clear that the Packers are not to be counted out. In every inning of the July 23 game they threatened, accumulating a run or two at a time until they were up 6-0 at the end of four. Despite the Stompers getting a handful of runners on base via one hit and two walks from starter Sam Stoutenborough (of Texas Christian), the Packers fielding skills kept the Stompers shut down—until the starter made way for reliever Grant Cherry (University of Tennessee).
Cherry was unable to keep the lid on the Sonoma team, giving up four walks, two hits and two earned runs in the 1.1 innings he worked. Then a trio of relievers followed him, keeping the Stompers scoreless with Caden Noah (UT Austin) striking out four in two innings of work.
At the plate, the Packers continue to show their strength. They currently lead the league with a team batting average of .304, as well as with 31 league home runs (58 on the season). Batting leaders for the Prune Packers include Joey Kramer (Cal State Northridge) with a .402 average and 44 RBIs, his 10 home runs behind only the 11 from Jared Sundstrom (UC Santa Barbara).
Winning brings in the fans
The success of the Prune Packers has not gone unnoticed in Healdsburg, and the biggest way to gauge that success is in attendance numbers at home. Every game seems to find more and more fans in the grandstands, fewer and fewer empty seats. But it hasn't always been that way.
"It was in 2010 or so, Clarence Ruonavaara would sit here and talk to me about the Packers during the high school games," said Dick Bugarske, then a high school teacher and principal, and now the team's president and announcer. "It seemed like we should figure out a way to bring it back. "
Ruonavaara was a Prune Packer himself from back in the 1940s, later a high school coach; his contagious enthusiasm for the game led to the revival of the Packers franchise. The grandstands were named for him following his death, at 93, in 2012.
With help from the American Legion and other backers, the Prune Packers modernized in the 20-teens, but it wasn't until they brought on Joey Gomes as field manager that the team could be said to return to its former glory. "He was a professional baseball player, with all of his connections in the baseball world," said Bugarske. "He took it to another level."
Gomes is perhaps less well known in the public baseball world than his younger brother, Jonny Gomes, a journeyman slugger who played with a host of major league teams: Tampa Bay, Cincinnati, Washington, Oakland, Boston, Atlanta and Kansas City. But even Jonny Gomes credits his brother Joey for teaching him how to hit. Joey Gomes has coached current Detroit star Spencer Torkelson as well.
Gomes is good nature personified, quick to grin and equally decisive in all aspects of the game. He wears two hats in the organization: field captain (or manager by another name) and general manager. It's the latter job that takes up most of his time.
"A lot of folks think this is just a two-months thing, but it's actually a full-time thing, with help," he said, citing Bugarske and team secretary Laurie North in particular. "Recruiting is probably 10 of those months. Plus scheduling, coordinating concessions, getting our merch lined up, the ball boys—I mean there is a lot that goes into being a part of the CCL."
But it's all worth it for Gomes, as much as it is for the Packers. "But it's a labor of love, in all honesty, and I'm so thrilled to provide the time. Because the outcome for the community here is so—I mean, the Prune Packers are back, man, y'know?"
The size of the crowd seems to grow not only over the season, but during every game. Baseball's a leisurely sport, and there's little hurry or antagonism or short tempers in the grandstands, just generous cheers and appreciation.
"Does being a winning team help? I think it does!" enthused Gomes. "But anecdotally, I think the fans are so great, they're happy to just see the Prune Packers.
"I mean it is a first-class town, and now there's a first-class team!"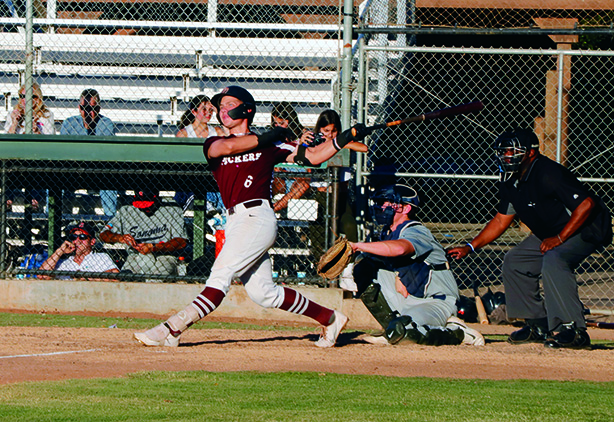 Post-season looms
As we go to press, the Packers are sitting on a six-game league lead, with a 21-7 North CCL record (their overall record of 32-7 includes non-league matchups). Four of their last seven games will be played this weekend on McCaffery Field at Rec Park, with a 6pm first pitch. Opponents include the Lincoln Potters (July 27, results too late for press time); Walnut Creek Crawdads (July 28); the San Francisco Seals (July 29); the Solano Mudcats (July 30); and the Novato Nicks on Sunday, July 31.
This year's playoffs are scheduled to begin next Thursday, Aug. 4, and continue through the final games on Aug. 7. The league championships are played in Southern California, so this weekend will be the last chance for local fans to catch the 2022 Healdsburg Prune Packers at Recreation Park, corner of Piper and University in Healdsburg.