From basketball to wrestling, both boys and girls teams at Healdsburg High are making their presence felt deep in the winter season of prep play. Playoffs are scheduled to begin the second week of February in most sports, which means the last chances to see them in regular season games are coming up soon.
Basketball
The girls basketball team continues to play highly competitive contests in both league and non-league play, but at this point in the season the emphasis is on the North Coast Section–Redwood matchups. As the Tribune goes to press, the girls are dominating the league with a 7-1 record, their only loss coming this week against Windsor, 43-28. This drops the team to 18-4 on the year; Windsor is 12-10, and their league record of 6-2 still places them behind Healdsburg for Redwood honors.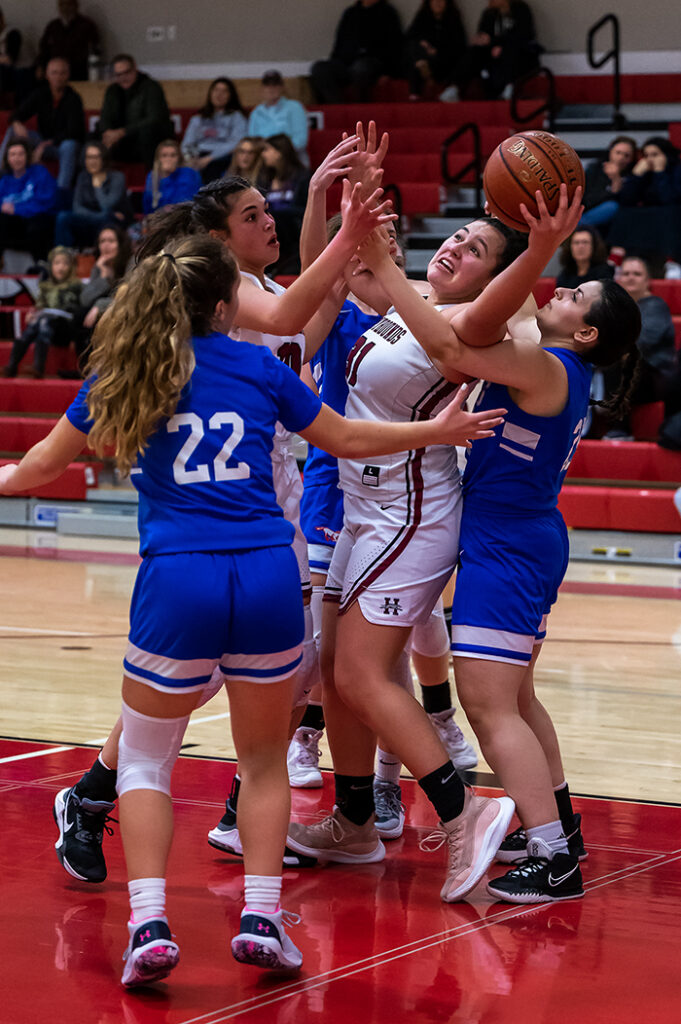 Upcoming games are all against schools Healdsburg has already defeated this season: Elsie Allen (Jan. 26), at home against Santa Rosa (Jan. 31), St. Vincent de Paul (Feb. 2) and a final home game against Piner on Saturday, Feb. 4, 7:30pm at Smith Robinson Gym. But as the Windsor game showed, there's no assurance that any given team will win on any given night
The NCS-Redwood league playoffs are from Feb. 8 to 11 for the top four teams only. CIF-NCS Division 4 NCS playoffs begin on Wednesday, Feb. 15; Healdsburg is Division 4 based on school size (by contrast, Windsor is Division 2).
The boys too are also working on a winning basketball season, though they are not as dominant as the girls team has been. They are 12-9 overall, and split 2-2 in league play (results of Jan. 25 home game against St. Vincent too late for press time). While they have lost three of their last four games, all games this season have been exciting, competitive games, and no one is taking Healdsburg for granted.
"We have a roster of 10 that are headlined by Sam Vanden Heuvel and Max Hubbel," said coach Jacob Pruitt. "Those two carry a heavy load for us, and we have roles being filled by seniors Pedro Diaz, Sebastian Miranda, Berni Pimentel and sophomore Thatcher Little."
Last home game for the Hounds is Wednesday, Feb. 1 against Elsie Allen, 7:30pm at Smith Robinson Gym.
Soccer
Here again it's the girls who are racking up the winning season—though the expectation that they would be "unbeatable" proved premature. Immediately after the New Year began, they lost two and tied one, but they got back on track with a recent winning streak over Kelseyville, Santa Rosa and a forfeit win over Elsie Allen.
Tuesday night's match against Piner found the Hounds losing 2-1, putting their record at 8-3-1 overall, 2-3 in the league. As with the basketball schedule, there are nothing but league soccer games remaining until the playoffs.
The boys soccer team is 4-2-2 overall, though their young league season has shown a loss and a tie. They haven't won a match since Dec. 9, a 1-0 victory over Maria Carrillo, but are hopeful that the series of league games coming up will produce some victories. An away game at Elsie Allen on Jan. 25 was too late for inclusion in this story.
Upcoming opponents at home include, for girls, Ukiah on Jan. 26, and back-to-back games against Elsie Allen and Kelseyville on Feb. 2. Boys soccer home games include Ukiah on Feb. 1 and Elsie Allen on Feb. 10.
Both girls and boys soccer matches are again played this year at the artificial turf fields on the Healdsburg High campus, with entrance from University Street.
Wrestling
With only four students competing in wrestling this year, coach Scott Weidemier is trying to give each of them enough time on the mats so that they can compete against other high schoolers this winter. Part of the reason for the thin roster is that several students who have expressed an interest in wrestling are playing soccer instead, a schedule switch that happened last year (2021-2022 school year).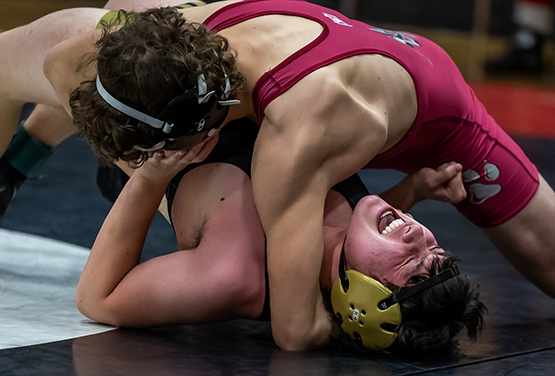 Speaking of the small number of students who turned out for the sport, the long-time coach said, "This is the worst it's been; I can't imagine it stays like this." But he's hoping that with a new football coach in the works for next fall, some of the fall gridiron players will turn to winter wrestling for added conditioning.
This year's four wrestlers are freshman Alex Dias (122 pounds), senior Anthony Francis (135 pounds), freshman Alexander Harms (160 pounds) and sophomore Michael Michener (heavyweight).