In what can only be described as a big win for the hometown team, the three-day Healdsburg Arts Festival attracted over 1,000 people to the Plaza, where acoustic music drifted over the booths, local food was prepared and served on site, kids played and grown-ups danced in the warm California sun.
It was as if the Healdsburg Plaza were made for just such an event.
And it was particularly welcome, coming on a weekend of good weather, three years after the last such Healdsburg Arts Festival graced the town center, in 2019. "One of the festival's goals was to reinvigorate the Healdsburg art and culture scene by providing an inclusive and diverse space for connection, community-building and creativity after a challenging few years of fires, flooding and the COVID pandemic," said Gina Riner, the festival's director. After all that, just getting together in a common space proved healing, cathartic.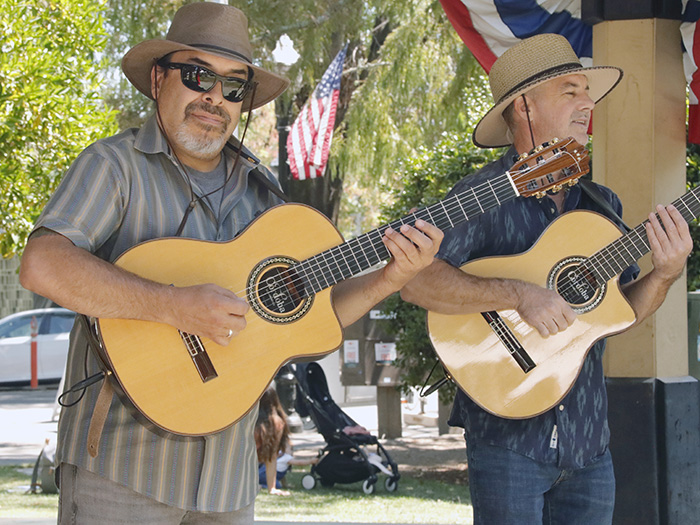 While Saturday was the busiest day, with arts vendors happily surprised by the works they sold and friends they met, every day had its special moments. Take, for instance, Sunday: The smell of fresh-baked dessert wafted over the crowd as an old-fashioned "pie parade" wended through the Plaza, led by 94-year-old Lorraine Ham and her mixed berry pie.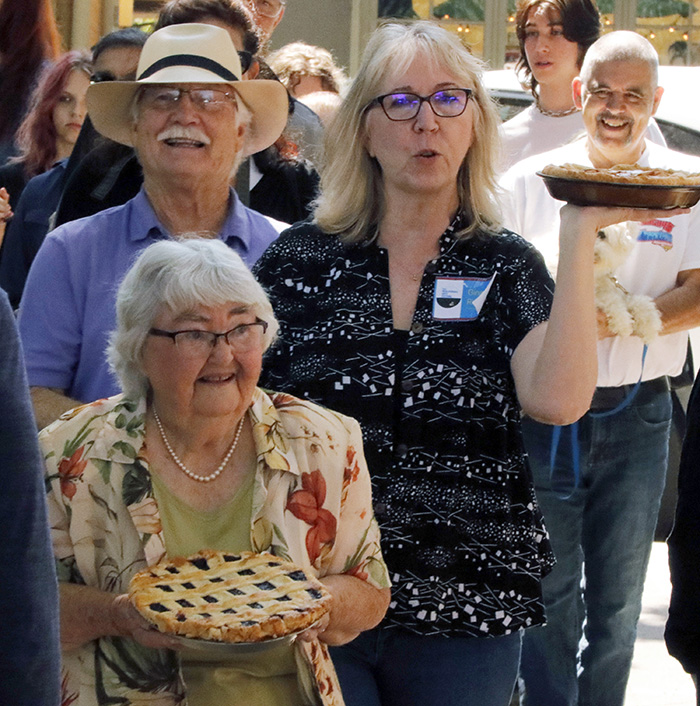 In their wake, a drift of random comments: "What's that smell?…How cool…. You don't see that every day… A what?… Thank you Mrs. Ham! We love you!"
Following the pie parade, Ham led a crust-making workshop on the closed-to-traffic Plaza Street, the location of a Culinary Arts Pavilion created for the three-day event. "Don't ever use your hands," she scolded, as she wielded a pastry cutter through the butter-flour-salt-sugar and baking-soda dough. Among her exclusive tips: Use a whisk instead of a sifter to break down the flour in the bag; and put a cast iron pan into the oven to preheat, then place the completed pie on top of it to bake, guaranteeing the undercrust will cook as well.
She said she started baking pies when she was 21 (let's see… that would be some time ago), when she went with a friend to an Eastern Star picnic. "Her crust was terrible," she said, knowing that she could do better. As time went on, the informal pie culture developed in Healdsburg, and eventually a tight group of women started a pie parade in the Plaza.
When asked what time of year was best for baking pies, she looked shocked. "August, of course!" That's high fruit season, after all, which only a non-baker would not know.
Other highlights: a living bee colony; Healdsburg High School teacher Derek Corsino's Culinary Program students conducted three food demos; a new interactive music education program for K-5 students called "Music is First," operated by musician and arts educator Ami Molinelli and her business partner, Alyson Swihart; a similar "Little Picasso Art Zone" that used recycled materials to create masks, creatures and more, from art teachers Harvest Nieto and Karen Klimak; and half a hundred other artists who brought their best work to Healdsburg.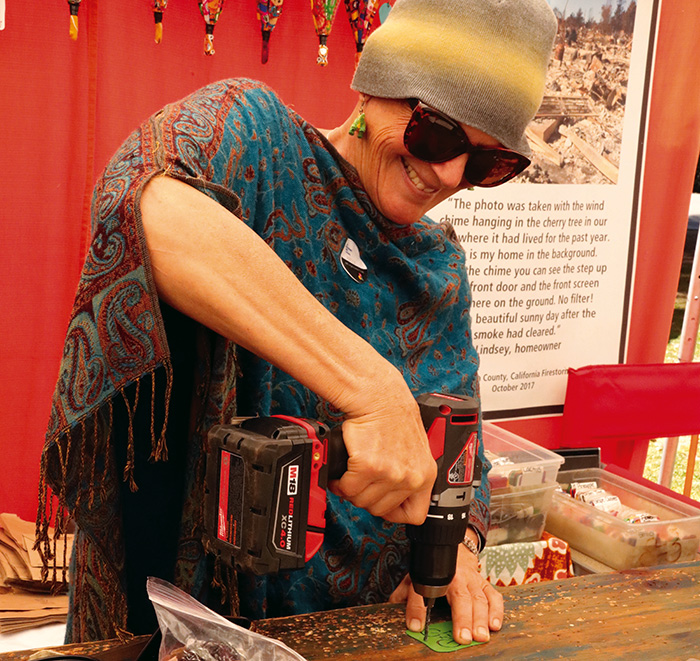 As Jen Utsch of Jendala, who creates positive affirmation chimes out of recycled metal, said, "It was an epic weekend connecting with community and sharing my art… The volunteer support from Healdsburg High School students sets the Healdsburg Arts Festival apart from any other."
Gina Riner took on the job of organizing the festival earlier this year, and with other Healdsburg Center for the Arts (HCA) board members Dave Howard, Colin Deas and Nicole Schlaeppi—and a last-minute surge of community support—pulled it off. Over 50 artist vendor booths took shape, beer and wine complemented the key food trucks, and a steady rotating line-up of performers, from Moheet Solhova belly dancers Friday afternoon to the impressionistic dancing of Skylaer Palacios and Julius Small on Sunday, gave the weekend a multi-media buzz.
"We fell short of our fundraising goal, but what's most important was how healing it was for the community and how it highlighted the continued need for art and culture in Healdsburg," said Riner.
To help support or learn more about the 2022 Healdsburg Arts Festival and HCA's ongoing art and culture programming, visit healdsburgcenterforthearts.org.