Day hikers, fitness buffs and dog walkers may find one of their most challenging walks off limits for the next two or three months, as long-awaited public access improvements for Fitch Mountain Park and Open Space Preserve got underway this week.
With construction activities that include the use of heavy equipment and hauling of materials, the City of Healdsburg announced they "are required to close all trail access from the Villa Chanticleer lower and upper parking lots, along with trail access from North Fitch Mountain Road. The main trail and all connection trails will be inaccessible during construction."
Newly-installed temporary construction fencing prevents access to the trailhead from the Villa Chanticleer lower lot, where the dog park is.
At just shy of 1,000 feet in elevation, Fitch Mountain is perhaps Healdsburg's most prominent physical landmark, aside from the Russian River itself. The mountain is surrounded on three sides by the City of Healdsburg, hosts the unincorporated Fitch Mountain residential community and provides a scenic backdrop for the city.
The public access improvements project takes place in two stages. First is Phase 1, which lasts into October and involves trail improvement, bridge installation and creek restoration. Phase 2 is expected to begin in November and run through the winter, bringing improvements to the dog park and the parking lots. Public restrooms are also planned for a near-future date.
The Healdsburg City Council allocated $2.77 million for the public access improvements in the 2022-23 budget.
Public Art
While all that is going on, the City Council recently adopted a resolution to approve the installation of a public artwork project, "Summit Variations," by artist Johanna Grawunder. The serial art project will be installed on Fitch Mountain Park and Open Space Preserve in the coming months, following the other public access improvements.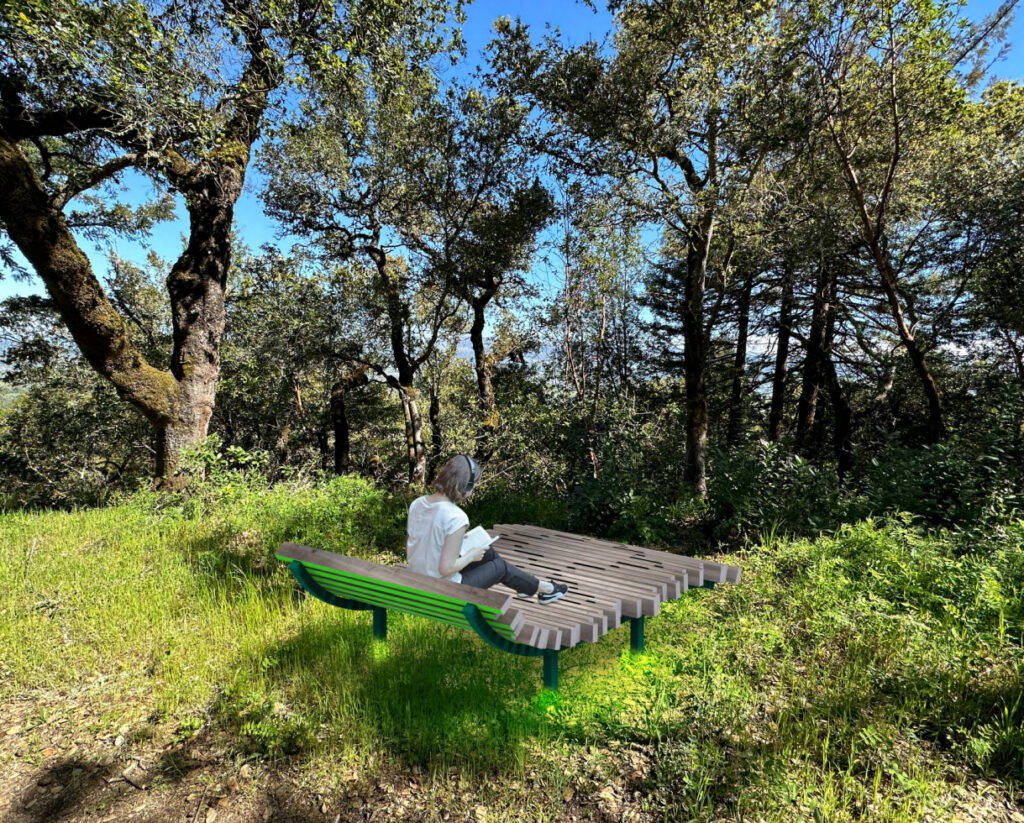 "Fitch Mountain, this natural, cultural, historical resource that stands guard over Healdsburg, the Russian River, and the surrounding valleys, demands a very special sort of consideration," wrote artist Grawunder in her proposal.
"As an artist and designer, my approach to Fitch Mountain has been to try to understand what the mountain wants and what it can sustain," she said. Her proposal, "Summit Variations," consists of a series of simple sculptures of tubular steel with a green powder-coated finish. Most of the five pieces can double as rest benches for hikers to contemplate nature, meditate or catch their breath.
Grawunder, a California native and lifelong designer-artist, currently has a home on Fitch Mountain.
Her proposal won out over 20 submissions and two other finalists. The total budget estimate for the project, including fabrication, installation, studio expenses and artist fees, is $96,000. The money for the arts project is funded by a $1,650,000 grant from the California Coastal Conservancy.
For updated information on the Fitch Mountain Public Access Improvement Project, visit healdsburg.gov/fitchmountain.