Joe Rochioli was one of those people whose chosen trade had an impact far beyond his friends, his family or the town in which he grew up—Healdsburg. He helped start the Future Farmers Fair (still held on Memorial Day weekend), hit home runs for the Prune Packers in the 1950s and worked with his dad to run the family hops, bean and grape farm on Westside Road.
But he will always be known as the man who brought pinot noir to the Russian River. And today, Rochioli vineyard-designate pinots are widely recognized as among the world's best expressions of the fickle varietal.
Joe Rochioli Jr. suffered a stroke in 2020 and had dealt with a series of health problems since that time. He died at home on Aug. 18, at the age of 88, with family at his side. "It was the right way to go," said his son Tom, who now runs the family farm and business.
The late Rochioli had himself taken over his father's farm in 1966, when Joe Sr. passed away. At the time, the 130-acre farm was like many in the area, cultivating a diversity of crops including string beans, hops and grapes, with success but not much vision. Joe Jr. talked his dad into planting sauvignon blanc, still a productive varietal in the region, but he could never convince him to try pinot noir.
"I'd been trying to get him to put some varietals in because I had been reading books when I got out of college," Rochioli told the Wine Spectator in 2017. "I was really interested in grapes. They intrigued me. I read about French Burgundies. I couldn't find any [pinot noir] budwood, and a friend told me about a guy south of St. Helena who had French clones. So, I started planting in 1968."
Joe Rochioli believed the prime Burgundy varietal would be well-suited to the cool climate of the Russian River Valley, and time has proven him right. Though not the first vintner to plant the grape—the Bacigalupi family and Rodney Strong had already done so—but with the Rochioli commitment, the local future of the varietal was assured.
The grape is a cornerstone of the Russian River Valley appellation (designated in 1983) and is now virtually synonymous with fine Sonoma County wine—only some of it from the so-called "Sideways Effect," when the 2002 movie of the same name elevated pinots into a spiritual class of quality (and relegated merlot to the dark side).
With characteristic modesty of a farmer, however, Joe Jr. took the success of his Russian River pinot all in stride. "He was very proud of it, but I don't think it ever went to his head," said his son.
"He was a hard-working, down-to-earth guy," said Tom Rochioli. "He was classic farmer, I mean, he never called a mechanic to fix anything, he did it himself. If something'd break, he'd weld it himself… he built all the picking bins out of metal—he was really a talented guy."
Over time, the reputation of the Westside Road farm grew, and as Rochioli began breaking out several vineyard blocks and bottling them separately—East Block, West Block, Three Corners, River Block, Little Hill and Sweetwater—the quality rose. The reputation followed.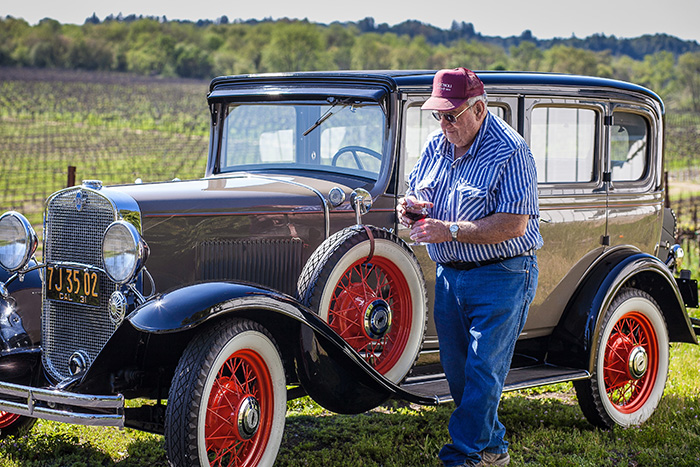 Their first estate wine, the 1985 Rochioli Pinot Noir, was named "The Best Pinot Noir in America" by Wine Spectator. Joe Rochioli was awarded the prestigious Copia Wine Grower of the Year Award in 2003. Their estate and vineyard-dignate bottlings are available only by a mailing list (and there's a four-year wait just to get on that mailing list)—though they are sometimes available at the time of a by-appointment-only tasting at 6192 Westside Rd. in Healdsburg.
Rochioli followed his own success by turning to chardonnay, another grape that loves a slightly cooler climate and similar soils. Both varietals, pinot noir and chardonnay, are the cornerstones of champagne, and there's hardly a vineyard in the appellation that doesn't bottle a top-quality sparkling wine, and that includes Rochioli.
As the reputation of Russian River wines grew, the region became a target for outside investors. In 2004, Rochioli's longtime next-door neighbor, Marty Griffin, sold his Hop Kiln Winery—with its distinctive hops drying elevators—to Landmark Vineyards, whose proprietors also own Pom Wonderful and Fiji Water.
Rochioli never even considered a buyout. Why not? "There's no price, no price," said Tom Rochioli. "We're not in the market, so we don't even entertain it. Never have to long as I'm alive, because I have the next generation working for us now." Both Rachael and Ryan Rochioli are "working their way up the ranks here," said their father, Rachael Rochioli as general manager, and Ryan Rochioli as an assistant winemaker.
Pointing out that there are still native hops growing on the property, "from the days of my grandfather," said Tom Rochioli, "we had this great idea of bringing that back and using those hops." His son, Ryan Rochioli, has been particularly interested in brewing. Even though the effort to brew on-site has been stymied by Permit Sonoma to this point, the Rochiolis still hold out hope.
"Beer is not our future, but my kids are," Tom Rochioli said.
Despite the high esteem the Rochioli name has in sommelier circles, the family remains as rooted to the land as the vines they grow.
"There's no royalty here; they were all immigrants," said Tom Rochioli, whose grandfather, Joe Rochioli Jr., immigrated to the U.S. in 1911. "They worked in the fields, no different than our men working now. That's why we have a huge amount of respect for our men now. That's how we started."
That's how Joe Rochioli lived, and that's how his legacy will live on.
A service will be held Wednesday Sept. 7 at St. John's Church, with viewing at 9am, Mass at 11am.