There was a bite in the air at Rec Park Friday night, March 3, as the host Healdsburg Hounds handed Credo a 7-2 loss in their first game of the year.
Healdsburg's starting pitcher Vinny Loupy had trouble finding the strike zone, a fact that the Gryphon took advantage of by simply not swinging at his pitches. Before long, there were two men on base and two runs over, so Coach Mark Domenichelli pulled him for utility player Alex Mauro-Manos.
Though only a freshman, like Loupy, Mauro-Manos closed out the inning with a strikeout and finished up the game without allowing another run.
Once the Hounds got their turn at the plate, the momentum changed. They got 14 hits, including a couple doubles, to take charge, spotlighted by Gavin Valls going 2-for-4 and sending a home run onto University Street. Healdsburg went wild on the bases too, stealing 11 times to make believers of Rohnert Park's Credo.
Five nights later, it was Valls on the mound, and the senior showed his stuff by striking out 13 Middletown batters in just six innings of work, leading the Greyhounds to their fourth win in a row without a loss.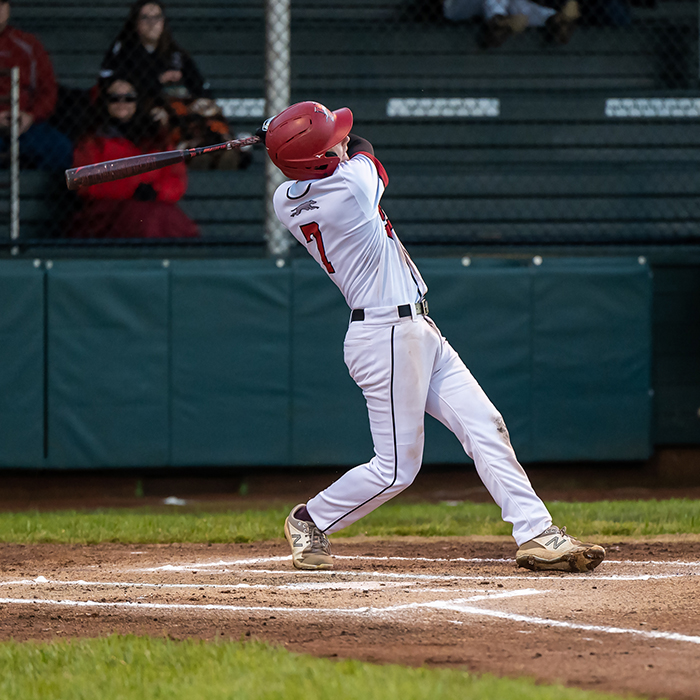 It was a tight game, with Healdsburg scoring three in the fifth to take the lead, but it proved more than enough for the 3-1 win. Sam Vanden Heuvel returned to his all-star form from last year, hitting a pair of two-baggers and scoring twice while driving in the other run.
Valls reached his 100-pitch limit and was relieved for the final inning by Mauro-Manos, who got the save; it was the second win for Valls in his first year on the varsity roster.
Heavy rains on Friday night, March 10 delayed the first league game of the year for both the Hounds and the Montgomery Vikings; the game was rescheduled for Saturday, March 18.
Unless rain affects the schedule further, Healdsburg had an away game against St. Vincent on March 15 (results too late for press time) and meets Justin-Siena at Rec Park on Thursday, March 16.
This year, the reconfigured Redwood League expanded to include Elsie Allen and Montgomery in addition to Piner, Santa Rosa and St. Vincent de Paul, as well as Healdsburg. Last year's pennant winner Analy has moved over to the highly competitive North Bay Oak league.
Games at the historic baseball diamond at Rec Park begin at 7pm, with JV teams facing off at 4pm.